The only constant in sports (and life) is change. While consistency is key to a winning strategy, the ebb and flow of production often can't be avoided.
Tracking the endless ups and downs over 40 games and nearly four months can become a heady operation. Segmenting the journey, however, into weekly updates allows managers to live (and play) in the now.
That's exactly what my Risers and Fallers column aims to accomplish, as we utilize ESPN's metrics database for a deeper look at the numbers.
---
Risers
The 4-14 Storm have struggled mightily this season, but Whitcomb has fought to buoy the squad with veteran savvy. The 34-year-old has been electric off the bench, earning herself more playing time and a subsequent spike in production.
Whitcomb has managed at least 23 minutes for six straight efforts, averaging over 26 minutes per game since June 24. She's also posted double-digit points in all but one contest during that span of time. Seemingly building momentum while Ivana Dojkic struggles, Whitcomb has additionally recorded a total of 15 boards and seven assists over her last pair of efforts. She figures to stay hot ahead of the All-Star break.
Hawkins has shined after being thrust into the starting lineup since Shakira Austin (hip) has been sidelined. Naturally her playing time increased, but it's worth noting that she's averaged an impressive 30 minutes per game since June 28. As a result, Hawkins' stats have undergone a tremendous bounce back.
The DC native has managed double-digit points in three of her last five games while also recording 11 rebounds in two of those efforts. She's additionally posted 11 total assists over her last three games, which is just one less than she had over the entire season prior to the start of July. Coming off a season-best showing in which she efficiently sank 10 of 12 shots and led the team with 24 points, Hawkins should continue to dominate with Austin not expected back until after July 18.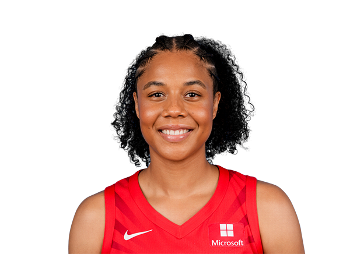 Coffey hasn't always been the most efficient shooter. But attempting nearly three 3's per game is bound to skew the overall metrics. Coffey has been on fire from beyond the arc, sinking seven 3's over her last six games and shooting 47% from long range over her last 10 games. Admittedly, the 25-year-old didn't attempt a 3-point shot in her most recent effort, but that was just the second time all season. Instead, Coffey attacked the boards, recording six rebounds and scoring eight points. Her willingness to shoot from distance in combination with her defensive prowess (3.6 DREB/game, No. 35) provide her with a solid fantasy floor.
Kudos to Allen who has now played twice as many games and recorded nine more starts than she did over her hard-fought 2022 campaign. Six of those aforementioned nine starts have come in consecutive order and as a result of Tiffany Mitchell's wrist injury.
Allen has averaged over 30 minutes per game and posted double-digit points three times since subbing in for Mitchell. Her prowess as a facilitator has provided fantasy managers with sneaky points, as the 28-year-old has averaged 6.3 dimes per contest (sixth-most since June 27). Allen, who has registered at least 19 fantasy points for four straight efforts, figures to remain in the starting lineup through the All-Star break, as Mitchell isn't expected back until July 18.
---
Fallers
Sutton's return to the league and dynamic play at the top of the season was one of the W's best stories. Unfortunately, too many turnovers (2.6 per game, 12th most) have negatively affected the 24-year-old's playing time.
Relegated back to the bench, Sutton has averaged 18.3 minutes per game since the beginning of July. She's also registered just 15 total points over her last three efforts, managing just one double-digit point effort since being pulled from the starting lineup. With an average of fewer than 10 fantasy points over her last 7 games, Sutton can be sent back to the fantasy free agent pool for the time being.
Follow Liz on Twitter: @LizLoza_FF