Here are some numbers: 3, 1, 1, 1, 1, 3, 2, 4, 1, 1, 1, 1, 2, 32, 5. It looks like defunct morse code -- or Joey Chestnut finishes in Staten Island on the Fourth of July -- but it's actually where Lionel Messi has ranked in total goals plus assists across Europe's five major leagues since the start of the 2008-09 season. That's 14 of 15 consecutive seasons in the top five, 13 of 15 in the top three, 10 of 15 in the top two and eight of 15 with more goals and assists than anyone. He's one of one.
Outside of his first, strange season with Paris Saint-Germain, there's been one constant in European soccer for the past 15 years: Lionel Messi scoring and creating more goals than anyone else currently playing in the most difficult leagues in the world.
Now, Major League Soccer is not quite one of the most difficult leagues in the world. According to the consultancy Twenty First Group, it's currently the 32nd-most difficult league in the world -- and it's about to be home to the greatest soccer player of all time.
Messi has made a career out of redefining what we thought possible for a single player to accomplish on a soccer field over the course of 38 90-minute matches. And right when it seemed like he might finally be done -- remember that 32 -- he rebounded with 16 goals and 16 assists in Ligue 1 this past year. Oh, and the World Cup; he won that, too.
Is there a limit to what this player might do to MLS? It's not as if there's ever been one like him before.
What was Messi's best season, and where would it rank in MLS history?
It might not seem like Messi has had a peak since making his Barcelona first-team debut back in October 2004; his whole career has sat above the rest. But him always being better than everyone else doesn't mean the degrees of better-ness haven't varied, and his two best seasons came right around the time we'd expect most other players to be at their best, too.
From a raw goals plus assists perspective, his best season was his age-24 campaign in 2011-12, or the beginning of his supposed "prime years" -- he scored 50 goals and added in 16 assists just for fun. No one has ever scored more goals in a single season across any of the Big Five leagues.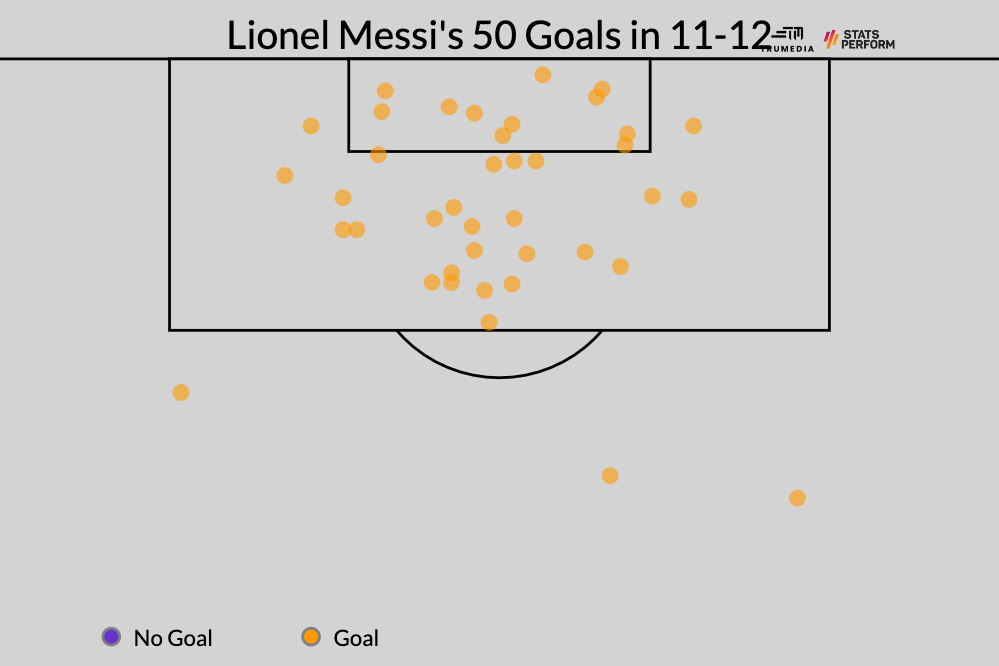 Somehow, he might have been even better the following season. Messi played 600 fewer minutes in LaLiga, but he actually scored more non-penalty goals: up from 40 to 42. With 11 assists, his non-penalty attacking production per 90 minutes added up to a truly absurd 1.8 per 90 minutes.
Putting that into context: only a handful of players will break 1.0 across a given season, and although Erling Haaland just shattered the 38-game Premier League goal-scoring record in his first season with Manchester CIty (36 goals), he still wasn't close to Messi's peak goal scoring. He was even further away when it came to per-minute attacking production with a pathetic 1.2 non-penalty goals plus assists per 90 minutes. Haaland's season was one of the best we've ever seen, but in 2012-13, Messi was scoring or assisting more than an extra goal every two games.
Now, the record for goals in an MLS season is Carlos Vela's 34 for Los Angeles FC in 2019. Messi has surpassed that number five times across those aforementioned 15 seasons. Only two other MLS players have even reached 30 goals in a single season; Messi scored 30 goals nine different times for Barcelona.
As for assists, the record was set all the way back in 2000: 26, by the Tampa Bay Mutiny's beloved Carlos Valderrama. Messi has never assisted that many goals in a single season, and he's only broken the 20-assist mark once. (For context, Messi, Manchester City's Kevin De Bruyne and Atletico Madrid's Antoine Griezmann tied for the European lead with 16 assists this season). Of course, Valderrama scored 16 total goals in nine MLS seasons; since 2008, Messi has scored fewer than 16 goals in a single season just once.
What will happen when he gets to MLS?
To start, let's use Vela as an example. In his last season before moving to MLS, he played for Real Sociedad in La Liga. He scored nine goals and added two more assists, which averaged out to 0.39 goals plus assists per 90 minutes. In his first season in MLS, that number jumped up to 0.87 goals plus assists per 90 minutes. If we take Messi's production from this past season with PSG and then convert it at the same rate, that would be 2.24 goals plus assists per 90 minutes.
- Stream on ESPN+: LaLiga, Bundesliga, more (U.S.)
Over his career, Messi has played 83% of the available league minutes. Across a 34-game MLS season, that would come out to about 2,540 minutes. Toss that production rate onto that minutes load, and it would add up to 63 goals and assists over the course of a season. If you added up the MLS goals record and the MLS assists record, you'd only get to 60.
This isn't quite how math works, but it's also a conservative estimate within this back-of-the-napkin methodology. We're using Vela's first season as conversion rate: the season he broke the goals record came from an attacking-production rate of 1.45. If Messi were to improve by that same rate, he'd score and assist 3.77 goals per 90 minutes and score and assist 106 goals over the whole season. No team in MLS history has scored more than 85 goals in a season.
That's not going to happen (... right?), so what might a more advanced, more precise approach suggest? The analyst Tony El Habr has done a bunch of work looking at how player production translates from league to league.
The numbers say that the Premier League (not the Russian one) is the most difficult league to play in. (See y-axis.) Numbers never lie, so of course this is correct.

Please harass @canzhiye if you disagree. pic.twitter.com/zMMZKuVa0l

— Tony (@TonyElHabr) June 18, 2021
Based on what El Habr told me, the production of a forward or attacking midfielder aged 30 or older moving from Ligue 1 to MLS is expected to increase by about 25%. This is based on the player's underlying (or, expected) numbers, rather than their actual output. Most players have significant swings in how well their shots and passes are converted into goals from season to season, so looking at expected goals and expected assists serves as a much better predictive baseline for almost everyone.
However, Messi has been around for so long, and has produced so many shots for himself and his teammates, that we can be a little more confident about how good he is at creating shots that overperform or underperform what an expected-goals model expects.
- From Beckham to Messi: How much has MLS grown over a decade?
- Baseball fields, snow and playoffs: What Messi can expect in MLS
After massively outperforming his underlying numbers for essentially every year of his career, he's only been slightly ahead of his xG and xA in each of the past two seasons. I think if we want to be conservative, we can just take last year's numbers -- 1.02 goals plus assists per 90 minutes -- and apply the 25% increase. That would bring him to 1.28 goals plus assists per 90 minutes, and if he plays 83% of the minutes in a full MLS season, that would result in about 36 goals plus assists per 90 minutes.
That's not quite 106 goals and assists, but it's also a number that's only been reached three times in any of the previous five full MLS seasons. And it also, again, might be too conservative.
Why Mbappe beat Messi to the top ESPN FC 100 forward spot
Gab & Juls explain why Kylian Mbappe had to be named the world's best forward in the ESPN FC 100.
In El Habr's model, the only players of a similar age and position to Messi who have moved from a Big Five league to MLS are Andreas Ivanschitz, Jermain Defoe and David Villa. Notably absent: Zlatan Ibrahimovic, who was excluded from El Habr's study because he "had intentionally capped the data set at 36 in order to eliminate 'selection bias' effects," he said. "The only age-36-plus guys still playing significant minutes in relevant leagues are probably super talented, which can skew the typical 'age curves' that we expect to see in the data."
Zlatan, who joined MLS, at the same age Messi is now, topped out at 1.28 goals plus assists per 90 minutes and 37 goals plus assists in his second season -- or almost exactly the same numbers we landed on for Messi. With a similar profile, Thierry Henry joined the New York Red Bulls from Barcelona in 2010 at age 32. His final Barca season saw him score four goals and assist one across 1,223 minutes for a rate of 0.37 -- across five MLS seasons, that number more than doubled, bouncing up to 0.76.
Given that Messi was and is a significantly better soccer player than Zlatan and Henry, it seems reasonable to expect him to be a significantly better soccer player in MLS, too. There are caveats: he could get hurt, he could fall off a cliff, he could decide he's done playing so much, he could be hindered by the fact that Inter Miami have yet to prove that they have any idea how to build a coherent soccer team and are currently in last place. But despite Messi being 36 years old, the average expectation is a succession of some of the best goal-producing seasons in MLS history -- plus all the other things, such as the progressive passing and the ball-carrying, that have made him even more effective than these mind-bending goal and assist numbers already suggest he is.
As for what the reality could actually be? Well, just look at the past 15 years. When was the last time Lionel Messi didn't exceed your expectations?